Explore Best Case
Workflow Solutions
Credit Report Import
Streamline your due diligence process with credit reports from CIN Legal Data Services. Order, authenticate, download and import credit report data in just minutes and without ever leaving your software.

As a Best Case customer, you automatically get a CIN Legal Data Services account which allows you to order Bankruptcy Credit Reports and other due diligence, including bankruptcy courses, tax transcripts and more. Submit the online form to complete your account today.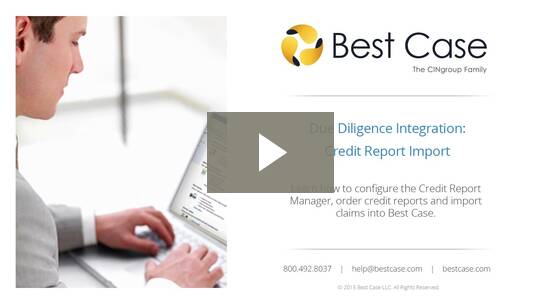 Credit Report Import helps you:

Download details
Save Time and Money
Increase Accuracy
Control and Filter Data
Fulfill Your Due Diligence Requirements
Get Started Today:
Review credit reports and pricing


Complete the online form with CIN Legal Data Services or Call 866.218.1003

Sign-Up



Download the Quick Start Guide to learn how to import credit report data
CIN Legal Data Services
Products and services that assist with the due diligence process.