Explore Best Case
Workflow Solutions
Credit Report Manager
Easily order, authenticate, download and import credit report data in just minutes and without leaving your software, saving you an average of 60 minutes of data entry per case. Plus, your order preferences are saved to expedite future client orders.

As a Best Case customer, you automatically get a CIN Legal Data Services account which allows you to order Bankruptcy Credit Reports and other due diligence data and services, including bankruptcy courses, tax transcripts, property appraisals and more.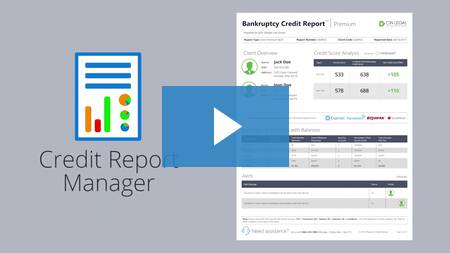 Credit Report Manager provides:
Direct integration into the Forms & Schedules – saving you 60 minutes of data-entry time!
Merged data from 2 or 3 credit bureaus
Bankruptcy-Specific Creditor Addresses to reduce time-spent on renoticing
Access to a PDF which includes your clients credit score and a LexisNexis 8-year bankruptcy, judgement and liens search
You are only one step away from ordering Bankruptcy Credit Reports. Easily activate your credit account through Best Case (on a gray screen) under Setup, select Activate Credit Report Option. Activation typically occurs within one business day.
Start saving time and increase accuracy by importing Bankruptcy Credit Reports into Best Case.
Make sure your software is current and up-to-date. In your Best Case software, click Tools > Check for Update
Helpful Resources:
Download the Quick Start Guide to learn how to import credit report data

Watch a web tutorial.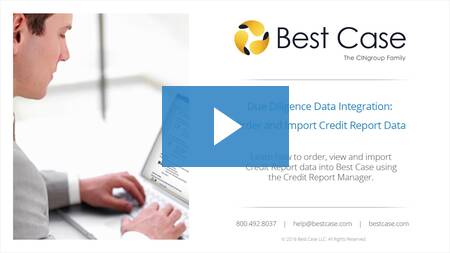 CIN Legal Data Services
Products and services that assist with the due diligence process.